All of the signs point to the fact that Fall is here—and Thanksgiving is just around the corner. In our neck of the woods, the trees are shedding the last of their leaves, our furnaces are humming, and everything from coffee and candy to Pop Tarts and Pringles are infused with pumpkin flavor.
We could probably do without the pumpkin flavored chips, but we look forward to this time of the year for a variety of reasons—one being that we finally have an excuse to break out our favorite Thanksgiving read-alouds.
5 of the Best Thanksgiving Read Alouds for Teachers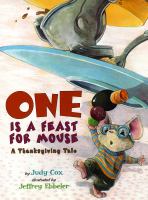 One Is a Feast for a Mouse: A Thanksgiving Tale
Thanksgiving is over for humans, but it's just getting started for Mouse, who creeps out of his hiding place and spies first a green pea, then a cranberry, then some mashed potatoes and even turkey! Spotting the leftovers is one thing, but getting past Cat is something else altogether.
This Thanksgiving read aloud is certainly cute, but it's also an excellent starting point for a discussion about appreciation and excess.





I Know an Old Lady Who Swallowed a Pie
Think you have a bad habit of overeating on Thanksgiving? Think again. In this book, the old lady begins her feast by eating a Thanksgiving pie that's just too dry. So what does she do? She polishes off a jug of cider to wash it down. But it's Thanksgiving—and what would Thanksgiving be without a roll, salad, turkey, and an entire squash?

As the old lady continues to eat, her belly continues to grow. I Know an Old Lady Who Swallowed a Pie is a silly, strange and wacky, but definitely one of our most popular Thanksgiving read-alouds.


Fried Feathers for Thanksgiving
Halloween has come and gone, and boy is it a terrible let down for grumpy witches Dolores and Lavinia. So what do they do? They decide to ruin Thanksgiving for Emma, and all of her friends. Unfortunately, Emma is a kinder and much wiser witch than the two grumps she lives with.



Ankle Soup
It's Thanksgiving day and Carlos, a French bulldog, just can't figure out what all the fuss is about. Carlos' journey begins amidst the hustle and bustle of Manhattan, giving young readers a mostly-ankle view of the Big Apple's most famous icons: Grand Central Station, the Macy's Thanksgiving day parade, Coney Island, F.A.O Schwartz, and many more.


Balloons Over Broadway
We can't speak for you, but we've always felt that the Macy's Thanksgiving Parade is as integral to the holiday as pumpkin pie. This book, written and illustrated by Melissa Sweet, is the story of Tony Sarg and how he developed the huge balloon puppets that have delighted parade viewers since 1928.