We love bringing Halloween into the classroom, but it's even better when we can turn spooky celebrations into teachable moments. To help you do this, we'd like to share a few of our favorite free Halloween printables for reading and writing teachers.

5 Free Halloween Printables for Reading & Writing Teachers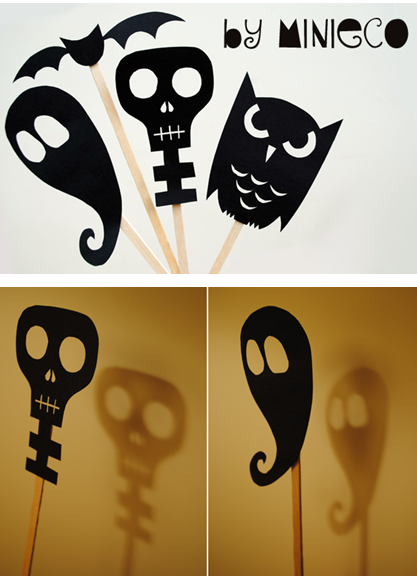 Halloween Shadow Makers
These spooky shadow makers are cute, but how can they help your students hone their writing skills? Simple, place students in groups and have them collaborate on their own spooky script. Once they're done, pull out a projector, sit back and enjoy as your students perform their plays in front of the class.

To download templates for the shadow makers, click here.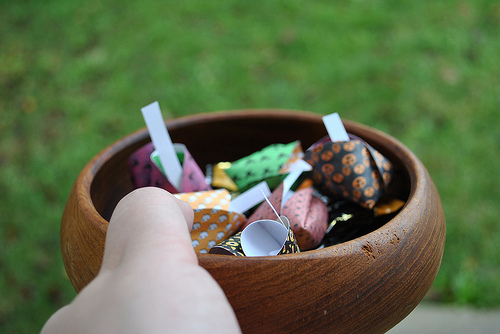 Halloween Haiku Cookies
While your students probably won't want to eat these Halloween "fortune cookies," they will enjoy choosing their template and learning how to fold it. What you have students write on the fortune is up to you, but we ask students to craft their own Halloween haikus, stuff them into the "cookies," and exchange with their peers on Halloween.
You can download the fortune cookie template here. Folding might be tricky without instructions, so check out the tutorial here.
Add an Adjective and Tell a Spooky Story
Sometimes the hardest part about writing is getting started. Thanks to this free Halloween printable, your students already have a spooky story outlined for them. All they have to do is add the adjectives!

You can download the worksheet here.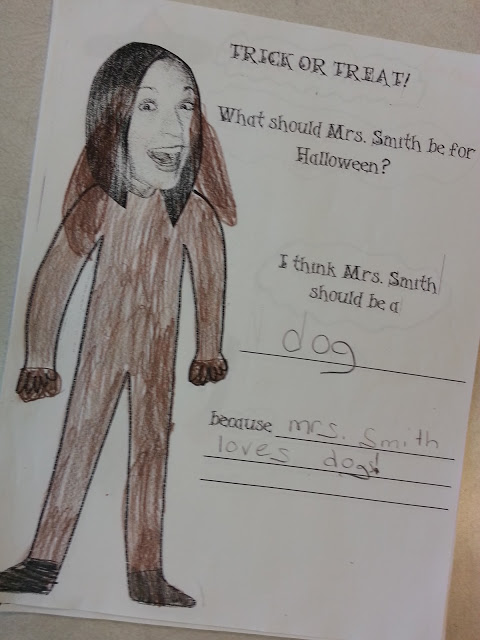 What Should My Teacher be For Halloween
This is by far our favorite Halloween activity on the list. If you're a teacher with thick skin and a good sense of humor, give this free Halloween printable a shot.
Just grab a headshot of yourself, photocopy it onto the template, and have your students help you pick out your Halloween costume!
You can download the free template here.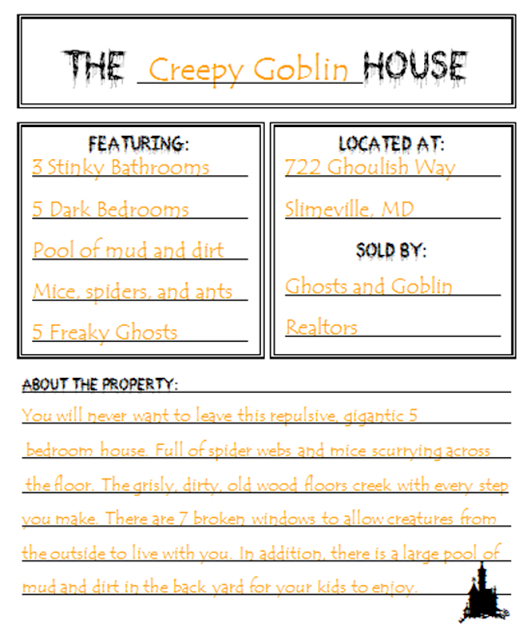 Haunted House for Sale
This is another favorite. The goal of this activity is for students to create their own haunted house and produce a sale ad persuading people to buy their house. Who is the intended audience for this piece of writing? Why, a family of ghouls, ghosts and goblins, of course!
This activity is divided up into five parts:
Web: Brainstorm ideas about what features students would like in their haunted house.
Page 1: Draw the exterior of the haunted house. Name the haunted house.
Page 2: is optional: Draw two interior rooms in the house (most students like to draw the bathrooms or a bedroom). You may choose to leave this out based on time.
Page 3: Students fill in the name of the house. They should list the features of the house, address, and the realtor (they should think creatively on who might sell a haunted house). Lastly, they should write an opinionated description of why people should buy this house. Remember, they are writing to persuade the reader to purchase their house.
Page 4: Additional page if a student needs more space to write.

To download this free Halloween printable, click here and scroll to the bottom of the page.