Last week, I put together a list of my favorite "falltastic" read-alouds, but looking back on it, the list just doesn't seem complete without these five spooky, but not-SO-spooky read-alouds. As always, it was challenging to narrow down the list to five, but here they are in no particular order!
5 Spooky, But Not-SO-Spooky Halloween Read Alouds for Children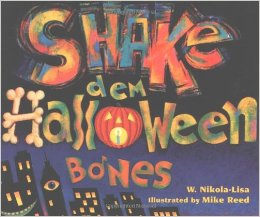 Shake Dem Halloween Bones
I'm willing to bet the farm that your students won't be able to keep "dem" tailbones in "dem" seats once you start reading Shake Dem Halloween Bones.
It's Halloween night. But as the lights go down in the city, the music goes up at the Hip-Hop Halloween Ball! Students will enjoy seeing their favorite fairy tale characters—Little Riding Hood, Goldilocks, and others—come together to sing their favorite refrain: "Shake dem Halloween bones!"
Bunnicula
Just when you thought that the vampire theme had been completely exhausted, Deborah and James Howe came up with this "spooktastic" read-aloud. In Bunnicula, we meet the Toby Monroe and his family, who decide to head to the theatre to see their favorite movie, Dracula. When Toby takes his seat, he accidentally plops himself down on top of a rabbit who is bundled up in the seat.
The Monroes love animals as much as they love horror movies, so what do they do? Why, they adopt the bunny and name him Bunnicula, of course!
But the family pets, Chester and Harold, quickly notice that something is amiss: Why does Bunnicula have pointy fangs, wear a cape, and have nocturnal habits? What happened to the once-red tomato in the kitchen? This read-aloud is as funny and "falltastic" as it is fast-paced. Enjoy!
Skeleton Hiccups
Who knew that skeletons could get the hiccups? Apparently they can, and this bony protagonist can't seem to shake them. Taking the advice of his best friend, Ghost, Skeleton does everything in the book to get rid of his hiccups: He holds his breath, drinks water upside down, eats sugar, but nothing works…until Ghost holds up a mirror!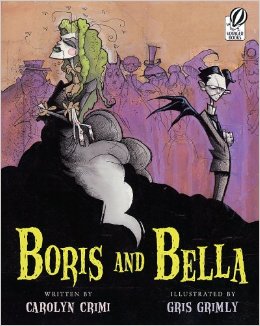 Boris and Bella
Boris Kleanitoff is terrifyingly tidy and his neighbor Bella Lagrossi is monstrously messy, so it's no surprise that these two don't get along—that is, until a Halloween dance brings them together.
This is one of myfavorite read-alouds and if you're a fan of Tim Burton tales like the Nightmare Before Christmas and the Corpse Bride, you'll surely love this one.
Pumpkin Soup
This is one of the "unspookiest" books on my list, but I had to include it.

In an old cabin in the woods (where else?), three friends make their famous pumpkin soup—just like they do every single day. As usual, Squirrel stirs, Cat cuts the pumpkin and Duck drop in the salt. But Duck is tired of dropping the salt and wants to stir. What ensues is a hilarious and heart-warming story—or soup!—for the soul.