Burn PowerPoint presentations to DVD—Step by Step
As I am familiar to PowerPoint presentations, lots of friends always ask me how to burn PowerPoint presentations to DVD to play it on TV. I'm glad to write this tutorial to help friends you all to burn PowerPoint presentations to Engaging DVD.
Now ,let's begin!
Why shall we burn PowerPoint to DVD? Below advantages should to be concerned.
1. Burn PowerPoint to DVD to run your product promotion presentation on a big screen TV in front of a big crowd.
2. Burn PowerPoint to DVD to attend presentation meetings only with DVD in your hand without your notebook computer.
3. Burn PowerPoint to DVD to send your PowerPoint presentation to customers or friends who does not have PowerPoint or even a PC and let them watch it on TV.
4. Burn your PowerPoint photo slide show to DVD to share with your friends and family together in front of a TV screen.
How to burn PowerPoint presentations to DVD? Below solution can easily convert the .ppt to video formats then burn it to DVD. Just several steps by clicking " Next"
Prepare
:
1.Download the tool and install it .
Download from the official site:
http://www.ppt-to-dvd.com/download/powerpoint-to-dvd.php
Or download directly from below URL:
http://download.ppt-to-dvd.com/ppt2dvd_trial.exe
2.Run PPT2DVD, and take an overview of its functions.
Convert :
1.Just click 'browse' and select the files should be converted, and press "Next" .
In the output properties step, select your output format and the DVD standard, if you don't know your country's TV standard,just click "select your country here" to select your country, the standard will be automatically reselected after you selected the country.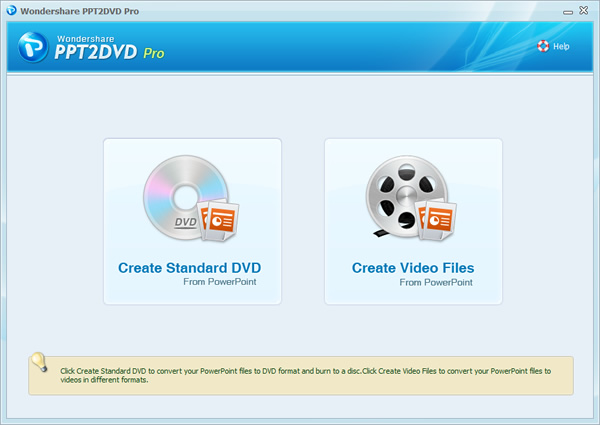 2.
(1)Press "Edit Video layout" to set the video size and background image as you like.
(2) If need, press advanced setting for some details to set, such as video quality ,animation time, transition time video quality etc. (generally, default setting is enough to common users)
3.In the "DVD Menu" setting process, you can customize the Title menu and Main menu and Ending page of your DVD. Press"Title menu setting" and "Main menu setting" "ending page"
Title menu is the fist slide to appear when you play the DVD, you can choose the presentations you had burned in .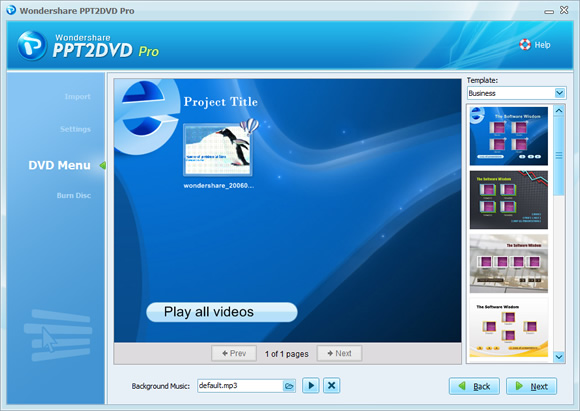 Main menu is the second picture when you play the dvd, you can choose "auto play" ,"manual play" "list view" or "thumbnail view".
All these actions can be controlled by a DVD remote control when finished!!!
4. Add backgroud music to your presentation and record narrations
5.After above steps, click "next", the conversion would start automatically until finish!
After Waiting some minutes ,the DVD with your presentation came to earth!
Tips:
If you want to convert it to a MPEG file, you may pause at the " Output options " and select the " Convert to video file"
If there is not a valid burner installed yet, the output formats of the PowerPoint File will be set as CD image file as default. And you can specify the output folder to save the ISO file, and modify the volume label. ISO file have no main menu and play mode to be set.
If you want to burn it to DVD without any other high needs, you can press "Next" until the end .It is very easy to use.
Wondershare liukh.
Blog:
http://ppt2dvd.blogspot.com
PPT2DVD(burn PowerPoint to DVD):
http://www.ppt-to-dvd.com