Web conferencing has a plethora of uses, whether it's teaching or tutoring, collaborating in real time over a report, or holding a webinar that allows participants to chat and discuss the topic concurrently.  The basic features that you can expect from a web conference client are the ability to upload and display a powerpoint, pdf, media, have a chat function, and white board.  A Google+ Hangout doesn't quite offer these tools, but it won't be surprising if they do in the future. Other additions such as audio/visual functionality, recording, mobile compatibility, and breakout rooms are platform specific and I'll walk you through who offers what.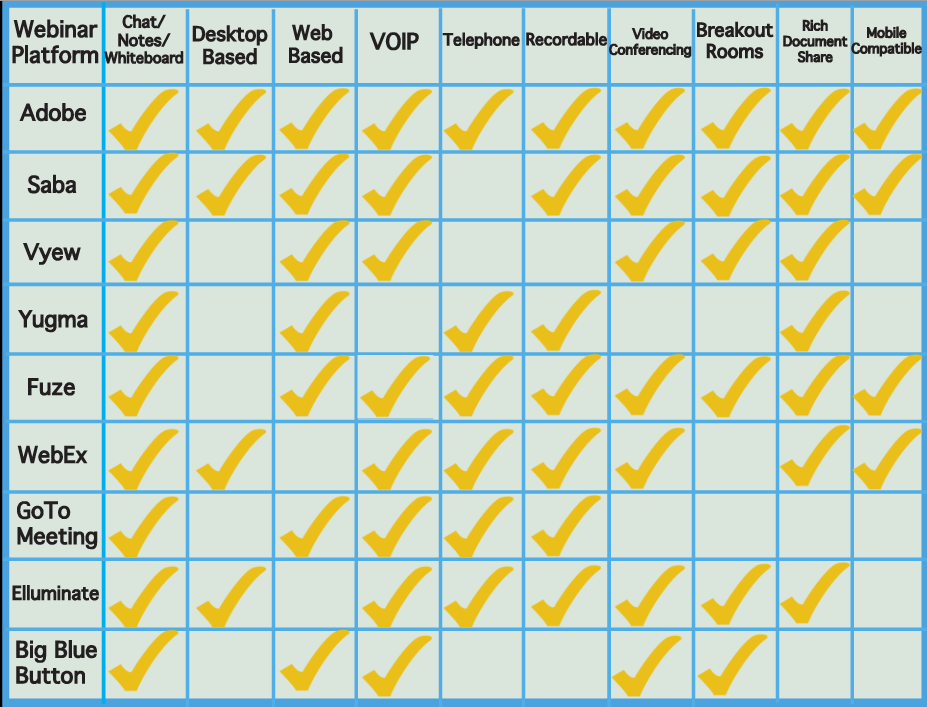 Professional Suites
The "top-grade" web conferencing platforms are delivered by Adobe Connect, Saba, and Cisco WebEx. These are superior to the rest because they generally are able to have much larger amounts of attendees, utilize downloaded software on the desktop, and are geared towards company and organization integration. These features come at a premium and most often the agreement is negotiated based on the needs of the client. If you work in the ICT4D field, the biggest factor to watch out for among web conferencing platforms is the level of bandwidth necessary to run and these top-level options won't be ideal. All three of these have downloadable software as well as browser-based options. Participants are able to connect through VOIP on all three, however Saba does not have call in functionality. Organizations are able to purchase various levels of attendee limits.
Cisco WebEx – $200/mo for 100 participants
 Adobe Connect – Price Negotiated
 Saba Classroom – $149/mo for 100 participants
Mid-Level Suites
These web conferencing clients are in a battle royal for low prices, simple aesthetic, and competitive functionality. We'll be focusing on Fuze Meeting, Vyew, Yugma, GoTo Meeting, and Elluminate (Now called Blackboard Collaborate which is actually in an education-only category but I grouped it here). Each of these offer an array of features that are most easily viewed in the table but I will highlight a few. I want to first highlight my favorite of the bunch—Fuze Meeting. It can handle just able everything that the premium platforms offer. It allows multiple call–in options, video conferencing, recordable and downloadable webinars, mobile device integration, and breakout rooms. By the looks of its website, it's biggest competition is GoToWebinar, which does not make much sense as they do not offer video conferencing or rich document sharing, not to mention a higher price point. Vyew is a worthy contender as it offers video conferencing (but not much else) for a mere $20/month. Elluminate was recently acquired by Blackboard, so let's just see we are wary of where it's going and how user friendly and stable it will be.
Fuze Meeting – $69/mo for 100 participants
Yugma – $80/mo for 100 participants
Vyew – $20/mo for 150 participants
GoToWebinar – $99/mo for 100 participants
Elluminate (Blackboard Collaborate) – Price Negotiated
Open-Source Suite
 We are very interested to see where Big Blue Button is going to go in the next few years. The platform is all open-source and is geared towards educational institutions. It can be modified to fit the needs of the client but would require a knowledgeable IT team to do it. It offers the basic features described at  the beginning of the post and also employs video conferencing between the presenter and viewers. It lacks recording and mobile integration, but is on a good track and is highly recommended for organizations that have a good handle on tech and want a cost-effective and easy-to-use option.
Big Blue Button – $0 for Unlimited Participants.
Final Thoughts
We have heard nothing but good things about Fuze Meeting, and even recommended one of our clients to switch to it from Elluminate.  Fuze Meeting better suited their needs for organizational conferencing. Their international staff is able to call on via skype, a separate VOIP number, or via telephone which is great in case fire-walls block certain types of online communication. The mobile device add-ons have helped too for their employees on the go.
We are excited to see the future innovations of eLearning and webinar classrooms and see how they can improve student-learning methods. As these platforms are able to strip down to lower bandwidth capabilities, more participants will be able to join from the developing world and in some small way information equity will be more realized. Please let us know if you have used any of these web conferencing platforms, what you thought about it, or what you think about eLearning in general.
If you're interested in using social media for democratic change, consider taking our new and dynamic online course, Global Innovations for Digital Organizing: New Media Tactics for De...
Have you ever been in a classroom and had the teacher ask, "If you can hear me please click on the smiley face?" If so, you have tasted education 2.0—impersonal yet far-reaching and convenient. There are several web conferencing platforms that individuals, organizations, schools, and businesses have to choose from. We want to break down the top nine that we feel are the most competitive in the space right now. In fact, they are so competitive that since doing most of this research just a few months ago the prices and features have noticeably changed.