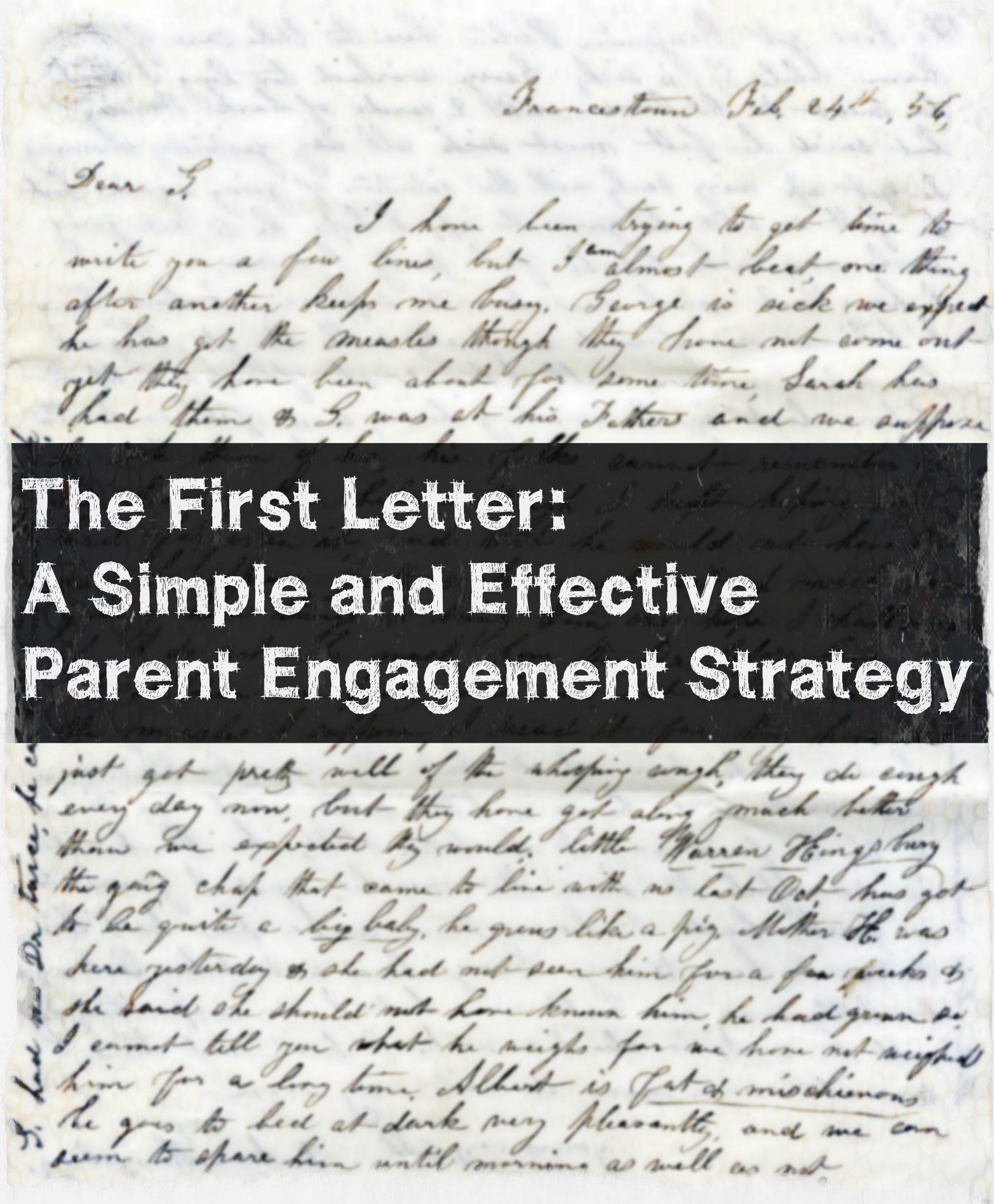 Imagine being a parent and opening your mailbox sometime in early August and finding a letter from your son or daughter's new teacher. In the letter, the teacher tells you all about herself, who she is, what she likes to do, how long she has been teaching, what she wants for your child and how you can contact her if you have any questions. You'd feel pretty good about this new teacher, wouldn't you?
Parents want to believe that their child is being left in capable and compassionate hands. Students want to believe that their teachers care about them and are happy to have them in class. A brief (and thoroughly unexpected) letter to each student is one of the easiest ways to welcome and reassure parents and students. Below you'll find a quick guide to help you draft your own letter to parents and students:
Format for the first letter to parents and students before school starts

Greeting
Personalize the greeting
Mention the student's name within the body of the letter
Content
Introduce yourself as the student's grade level teacher
Share a little about your background and education
Include the essence of your philosophy of teaching
Ask parents to complete an attached questionnaire about their child
Contact information
School email address
School phone and extension
Best times to contact you
If you have a classroom blog or Twitter account, share this with parents
Invite parents to visit you in the classroom before school starts
Letter closing
Sign the letter with first and last name

Example of a before-school-starts letter to parents
August 1, 2014
Acme Elementary School
2220 Yellow Brick Road
Detroit, MI 48221
Dear Mr. and Mrs. Smith:

As Jerry's teacher for the upcoming school year, I am looking forward to getting to know you and working with you.
I started teaching at Acme Elementary in 2006 and have been here ever since! Prior to this, I studied at University of Michigan where I earned my degree in Elementary Education. After completing my B.A. in 2004, I moved to Tokyo, Japan where I taught English Language Learners, while at the same time pursing my Master in the Art of Teaching from Marygrove College's online program. Living and working abroad was an invaluable experience—not only did it allow me to work with students and hone my craft, it also gave me the opportunity to travel, learn about different cultures, and pursue two of my biggest passions: Japanese art and English Language Learners.
Just to give you a sense of what both you and Jerry can expect from me this year, I'd like to tell you a bit about our classroom and, very briefly, explain my philosophy of teaching.
During the first few weeks of school, I plan on setting aside a significant amount of time so that I can get to know Jerry and his classmates better. Every student is unique and has different interests and learning styles. I want to ensure that I spend an adequate amount of time learning about all of my students and having them learn about me. My goal is for our classroom to be a community of learners based on mutual respect for all individual differences. I want both you and Jerry to know that our (not my) classroom is a safe environment where students are encouraged to share, learn from one another, and learn from me—just as I will learn from them.
If you would, please share information with me about Jerry by completing the enclosed questionnaire so that I may begin to plan to meet his needs and expectations.
I also want to let you know that you are both welcome to visit our classroom before school begins or at any time during the year. To arrange a meeting, all you have to do is contact me and we'll set something up!
Lastly, please subscribe to our classroom blog and Twitter feed. There you will find information about volunteer opportunities, and different ways you can support our classroom. Even if you do not wish to volunteer in the classroom, I would encourage you to follow our class online. I like to post photos and updates about students and all of our classroom activities!
Enjoy the last few weeks of summer. If you have questions, please contact me in one of the following ways:
Sincerely,
Ryan Thomas
Below you'll find a series of questions to include in your student questionnaire:
What are your child's interests?
What would you like me to know about your child?
What are your concerns, if any?
What is your child's attitude towards school?
What has been helpful for your child in the past?
Think of your child's favorite teacher. What distinguished him or her from some of your child's other teachers?
How does your child learn best?
What additional help might your child need this year? How might I best offer this additional support?
What is your child passionate about?
What are some of his/her favorite things to do outside of school?
Would you like to schedule an informal conference to meet and/or discuss your child? If so, please indicate times that are best for you.
Photo credit: gbaku / Foter / Creative Commons Attribution-ShareAlike 2.0 Generic (CC BY-SA 2.0)